Center for Geometry and Physics
Landau-Ginzburg Theory and Fano Varieties
May 26 - 30, 2014
Organizers

Ludmil Katzarkov (Universität Wien)

Yong-Geun Oh (IBS & POSTECH)

Jihun Park (IBS & POSTECH)

Venue

Hotel Hyundai

Gyeongju

Korea

Invited Speakers

Hamid Ahmadinezhad (Linz, Austria)

Matthew Ballard (Columbia, USA)

Cinzia Casagrande (Torino, Italy)

Ivan Cheltsov (Edinburgh, UK)

Colin Diemer (Miami, USA)

Alexander Efimov (Coventry, UK)

David Favero (Alberta, Canada)

Segrey Galkin (Moscow, Russia)

Fabian Haiden (Wien, Austria)

Ludmil Katzarkov (Wien, Austria)

Gabriel Kerr (Manhattan, USA)

Young-Hoon Kiem (Seoul, Korea)

Alexander Kuznetsov (Moscow, Russia)

Yongnam Lee (Daejeon, Korea)

Takuzo Okada (Saga, Japan)

Yuri Prokhorov (Moscow, Russia)

Victor Przyjalkowski (Moscow, Russia)

Constantin Shramov (Moscow, Russia)

Andrey Trepalin (Moscow, Russia)

Francesco Zucconi (Udine, Italy)
Talk Schedule
May 26 (Mon)
May 27 (Tue)
May 28 (Wed)
May 29 (Thu)
May 30 (Fri)
09:00 - 10:00
Registration
Prokhorov
Kiem
Cheltsov
Zucconi
10:15 - 11:15
Katzarkov
Kerr
Ahmadinezhad
Przyjalkowski
Haiden
11:30 - 12:30
Casagrande
Kuznetsov
Free Afternoon
Trepalin
Efimov
12:30 - 14:30
Lunch
Lunch
14:30 - 15:30
Favero
Diemer
Ballard
Galkin
16:00 - 17:00
Okada
Shramov
Lee
18:30 -

00:00

Reception
Banquet
Registration
Registration is closed.
Direction
Click here for Transportation Guide to Gyeongju & Hotel Hyundai.
Accommodation
The speakers will stay in Hotel Hyundai and the rooms are reserved.
For the participants, here are accommodation suggestions near the conference site.
Name
Distance
Price (KRW)
Contact
Hyundai Hotel *
Conference site
Double or Twin
140,000/night **
(breakfast O)
http://www.hyundaihotel.com/hyeongju/index.jsp
Contact: fano@ibs.re.kr
The Suites Hotel
5min walk
Double or Twin
164,600/night
(breakfast O)
http://gyeongju.suites.co.kr
Contact: +82 (0)54-778-5300
130,000/night
(breakfast X)
Chosun Spa Hotel
10min Walk
Double or Twin
88,000/night
(breakfast X)
http://www.chosunspahotel.com/main.php
Contact: +82 (0)54-740-9600
Daemyung Resort
10min Walk
Room for 4
215,700/night***
(breakfast X)
http://www.daemyungresort.com/gj
Contact: +82-1588-4888
* Note: If you would like to share with another participant please contact us in advance.
** Shared room price: 80,000 won/night for each person. (Breakfast included for both participants)
*** This price is for those to join the Daemyung resort cyber membership.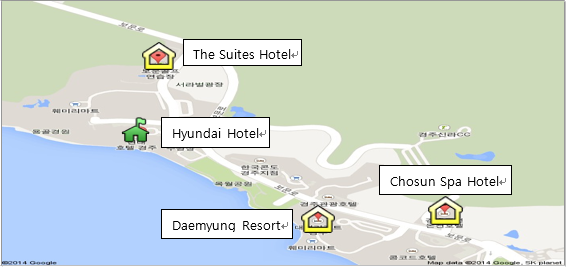 Visa
Please visit http://cgp.ibs.re.kr/planningvisit.ibs and note that the travel visa has been waived between Korea and Russia since 2014.
If you need to apply for the visa, please contact fano@ibs.re.kr.
Contact
Ms. Soojin Park & Ms. Genn Ia Kim