Pacific Rim Complex-Symplectic Geometry Conference
July 31–August 4, 2017
IBS Center for Geometry and Physics, Pohang, South Korea
Plenary Speakers
Taeyong Ahn (KIAS)
Hulya Arguz (Imperial College London)
Bo-Yong Chen (Fudan University)
Young-Jun Choi (Institut Fourier, Université Grenoble Alpes)
Tomoyuki Hisamoto (Nagoya University)
Pak Tung Ho (Sogang University)
Jaehyun Hong (KIAS)
Yoosik Kim (Boston University)
Calin Lazaroiu (IBS Center for Geometry and Physics)
Haozhao Li (University of Science and Technology of China)
Takeo Nishinou (Rikkyo University)
Egor Shelukhin (Université de Montréal)
Yusaku Tiba (Ochanomizu University)
Dmitry Tonkonog (Uppsala University, UC Berkeley)
Kai Zheng (University of Warwick)
Bin Zhou (Peking University)
Scientific Committee
Xiuxiong Chen (SUNY-Stony Brook)
Kengo Hirachi (Tokyo University)
Jun-Muk Hwang (KIAS)
Yong-Geun Oh (IBS-CGP, POSTECH)
Kaoru Ono (RIMS, Kyoto University)
Xiaohua Zhu (Peking University)
Local Organizing Committee
Jun-Muk Hwang (KIAS)
Yong-Geun Oh (IBS-CGP, POSTECH)
Jihun Park (IBS-CGP, POSTECH)
Venue
POSECH Information Research Laboratories 122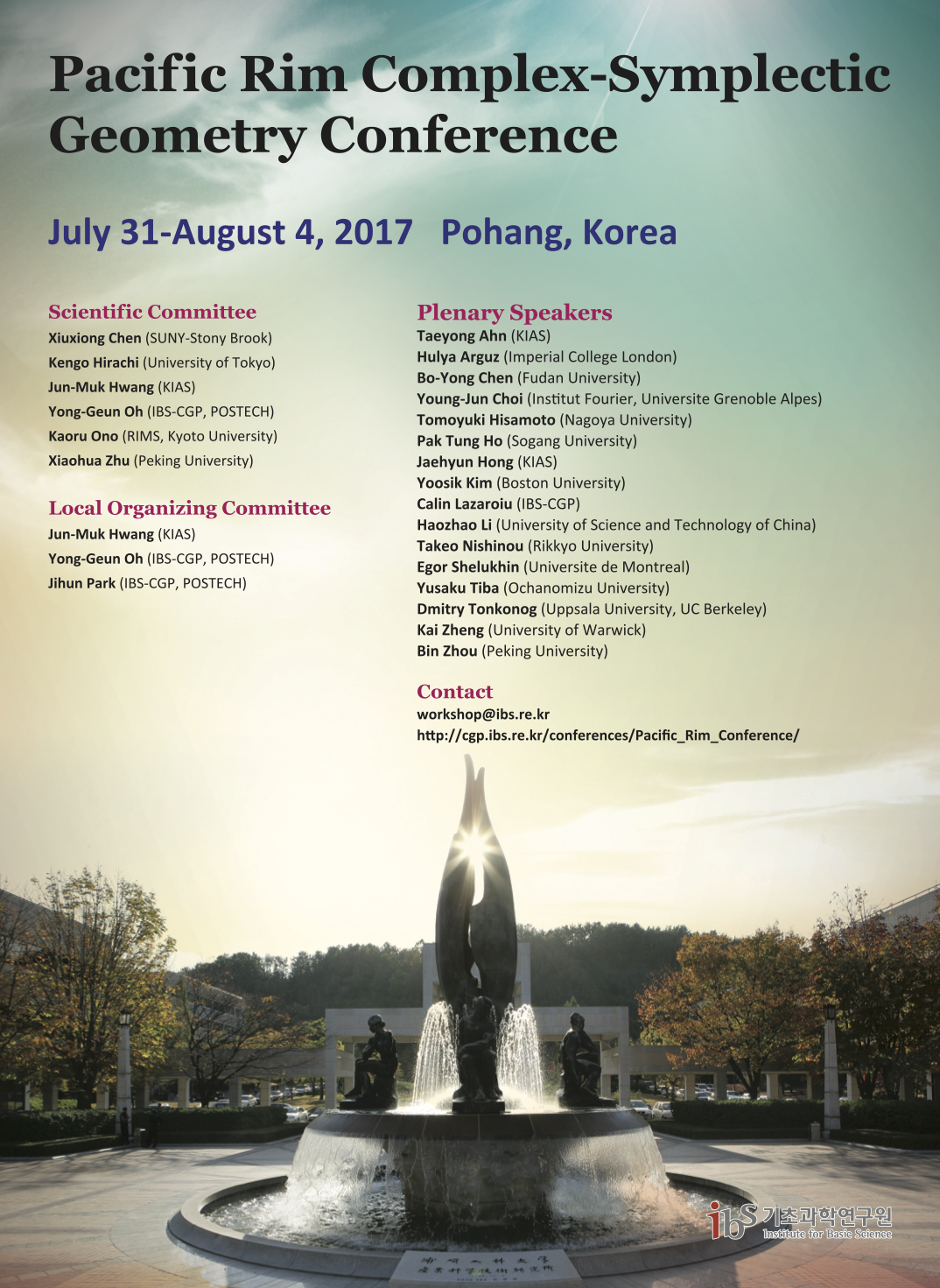 Lectures Schedule
July 31 (Mon)
August 1 (Tue)
August 2 (Wed)
August 3 (Thu)
August 4 (Fri)
09:30
Registration
Egor Shelukhin
(09:30–10:30)
Taeyong Ahn
(09:30–10:30)
10:00
Tomoyuki Hisamoto
Takeo Nishinou
Young-Jun Choi
10:30
Break (10:30–10:45)
Break (10:30–10:45)
Dmitry Tonkonog
(10:45–11:45)
Calin Lazaroiu
(10:45–11:45)
11:00
Break
Break
11:15
Jaehyun Hong
Yoosik Kim
Bo-Yong Chen
11:45
Excursion
12:15
Lunch
(12:15–14:00)
Lunch
(12:15–14:00)
14:00
Kai Zheng
Haozhao Li
Hulya Arguz
14:30
15:00
Tea time
(15:00–15:30)
Tea time
(15:00–15:30)
15:30
Pak Tung Ho
Yusaku Tiba
Bin Zhou
16:00
Banquet
Registration
Online registration is available here until June 30, 2017.
How to get to POSTECH
Visit here for information about how to get to Pohang.
For the location of the conference site, click here for POSTECH Campus Map.
Accommodation
We regret to say that we cannot support your travel and local expenses unless the conference promised to pay.
For booking an accommodation in Pohang, please contact the hotel directly referring the list below.
To visit the website of the hotel, please click the name of the hotel.
POSCO Int'l Center
Hotel Yeongildae
Apple Tree Hotel
Philos Hotel
Benikea Hotel Pohang
Eco Hotel
Double Room
88,000 KRW
110,000 KRW
55,000 KRW
80,000 KRW
70,000 KRW
90,000 KRW (1 Person)
100,000 KRW (2 Persons)
Twin Room
88,000 KRW
132,000 KRW
60,000 KRW
80,000 KRW
80,000 KRW
100,000 KRW
120,000 KRW (Deluxe)
Breakfast
(1 person)
13,200 KRW
12,000 KRW
free
11,000 KRW
free
free
Distance from Venue
10 min. by walk
15 min. by car
15 min. by car
15 min. by car
20 min. by car
20 min. by car
Contact
+82-54-279-8500
+82-54-280-8900
+82-54-241-1234
+82-54-250-2000
+82-54-282-2700
+82-54-282-8787
* The above rate is as of April, 2017 (VAT included)
** The rate may vary
Visa
Please visit here and if you need to apply for the visa to attend the conference, please contact workshop@ibs.re.kr. We would request a copy of your passport and up-to-date CV for review.
Contact
workshop@ibs.re.kr