Thematic Program
Mathematics of Quantum Field Theory
Number Theory and Quantum Field Theory
August 22–26, 2016
IBS Center for Geometry and Physics, Pohang, South Korea
Mini-Course Lecturers
Francis Brown (University of Oxford, IHES)
Philip Candelas (University of Oxford)
Xenia de la Ossa (University of Oxford)
Speakers
Jennifer Balakrishnan (University of Oxford)
Tudor Dimofte (UC Davis)
Yvonne Geyer (University of Oxford)
Sergei Gukov (California Institute of Technology)
Yang-Hui He (City University London, Nankai University, University of Oxford)
Hiroshi Iritani (Kyoto University)
Shamit Kachru (Stanford University)
Minhyong Kim (University of Oxford)
Albrecht Klemm (University of Bonn)
Masanori Morishita (Kyushu University)
Adriana Salerno (Bates College)
Philsang Yoo (Northwestern University)
Jeehoon Park (POSTECH)
Organizers
Philip Candelas (University of Oxford)
Dmitry Kaledin (Steklov Mathematical Institute, Independent University of Moscow)
Minhyong Kim (University of Oxford)
Xenia de la Ossa (University of Oxford)
Jae-Suk Park (IBS Center for Geometry and Physics, POSTECH)
Jeehoon Park (POSTECH)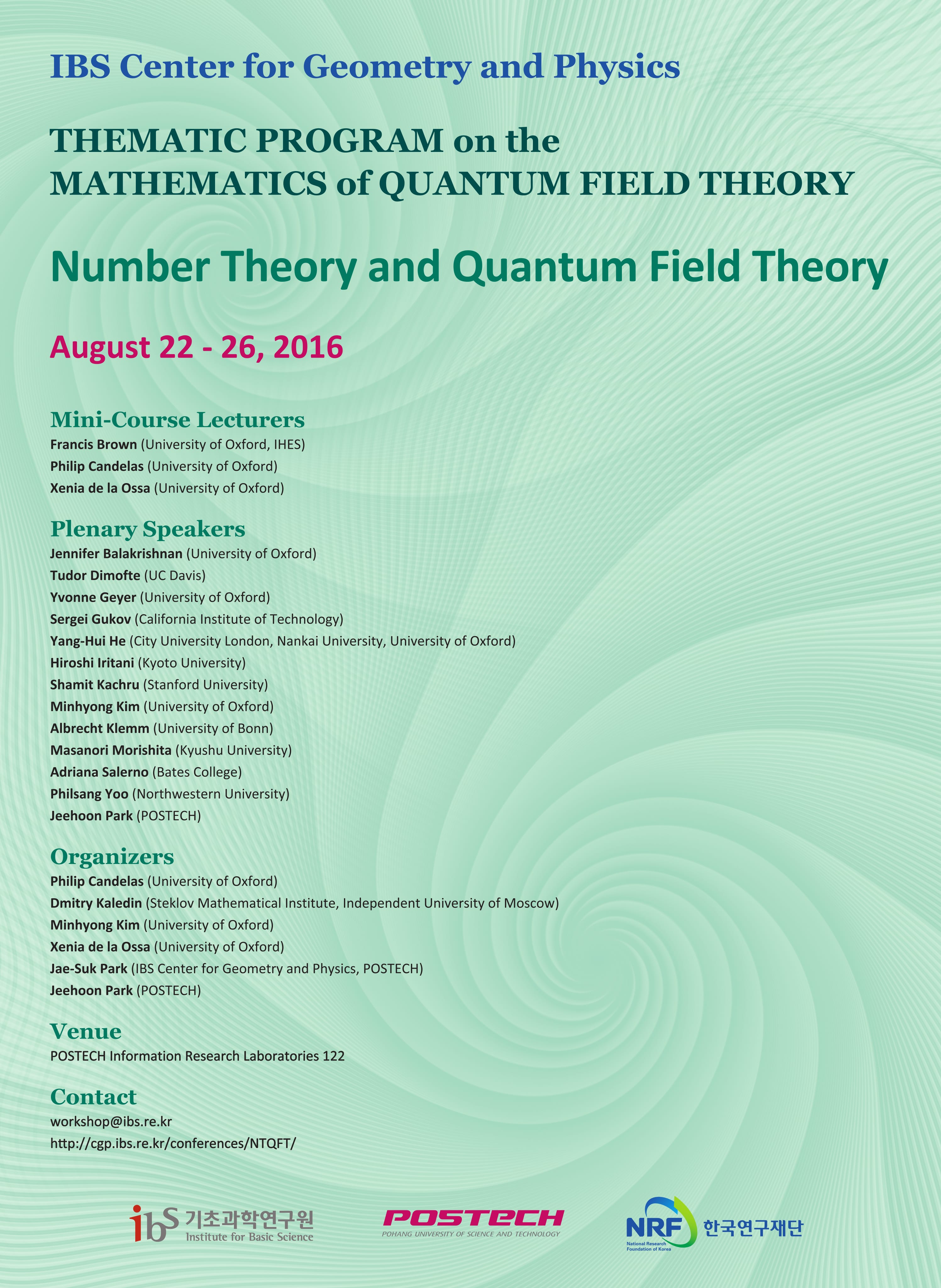 Lectures Schedule
Aug. 22 (Mon)
Aug. 23 (Tue)
Aug. 24 (Wed)
Aug. 25 (Thu)
Aug. 26 (Fri)
09:30 – 09:50
Registration
Registration
Registration
09:50 – 10:00
Opening Remarks
10:00 – 10:50
Minhyong Kim
Xenia de la Ossa 1
10:00~11:00
Francis Brown 1
Masanori Morishita
Xenia de la Ossa 2
10:50 – 11:10
Break
11:10 – 12:00
Philip Candelas 1
Tudor Dimofte
11:10~12:10
Francis Brown 2
Sergei Gukov
Philip Candelas 2
12:00 – 14:30
Lunch
14:30 – 15:20
Jeehoon Park
Jennifer Balakrishnan
Free Time
Or Excursion
Hiroshi Iritani
15:20 – 16:00
Tea Time
Tea Time
16:00 – 16:50
Shamit Kachru
Philsang Yoo
Yang Hui He
16:50 – 17:10
Break
Break
17:10 – 18:00
Adriana Salerno
Yvonne Geyer
Albrecht Klemm
Venue
POSTECH Information Research Laboratories 122
Registration
Online registration is available here until August 10, 2016.
How to get to POSTECH
Visit here for information about how to get to Pohang.
For the location of the conference site, click here for POSTECH Campus Map.
Accommodation
We regret to say that we cannot support your travel and local expenses unless the conference promised to pay. For booking an accommodation in Pohang, please contact the hotel directly referring the list below.
POSCO Int'l Center
Apple Tree Hotel
Philos Hotel
Benikea Hotel Pohang
Eco Hotel
Double Room
88,000 KRW
50,000 KRW
80,000 KRW
70,000 KRW
90,000 KRW (1 Person)
100,000 KRW (2 Persons)
Twin Room
88,000 KRW
60,000 KRW
80,000 KRW
80,000 KRW
100,000 KRW
120,000 KRW (Deluxe)
Breakfast
(1 person)
13,200 KRW
free
11,000 KRW
free
free
Distance from Venue
5 min. by walk
15 min. by car
15 min. by car
20 min. by car
20 min. by car
Contact
+82-54-279-8500
+82-54-241-1234
+82-54-250-2000
+82-54-282-2700
+82-54-282-8787
* The above rate is as of July, 2016 (VAT included)
** The rate may vary
Visa
Please visit here and if you need to apply for the visa to attend the conference, please contact workshop@ibs.re.kr. We would request a copy of your passport and up-to-date CV for review.
Contact
workshop@ibs.re.kr