Frontiers of algebraic surfaces
February 26 – March 2, 2018
POSTECH Mathematical Science Building 404
Invited speakers
Ingrid Bauer (University of Bayreuth)
Frederic Campana (University of Nancy I, KIAS)
Fabrizio Catanese (University of Bayreuth, KIAS)
Yifan Chen (Beihang University)
Sung Rak Choi (Yonsei University)
Junmyeong Jang (University of Ulsan)
JongHae Keum (Korea Institute for Advanced Study)
Kwangwoo Lee (GIST)
Yongnam Lee (KAIST)
Binru Li (SCMS)
Wanmin Liu (IBS-CGP)
Jason Lo (California State University Northridge)
Genki Ouchi (IPMU))
Jinhyung Park (KIAS)
Dongsoo Shin (Chungnam National University)
YongJoo Shin (KAIST)
Organizers
JongHae Keum (Korea Institute for Advanced Study)
Kyoung-Seog Lee (IBS Center for Geometry and Physics)
Jihun Park (IBS Center for Geometry and Physics, POSTECH)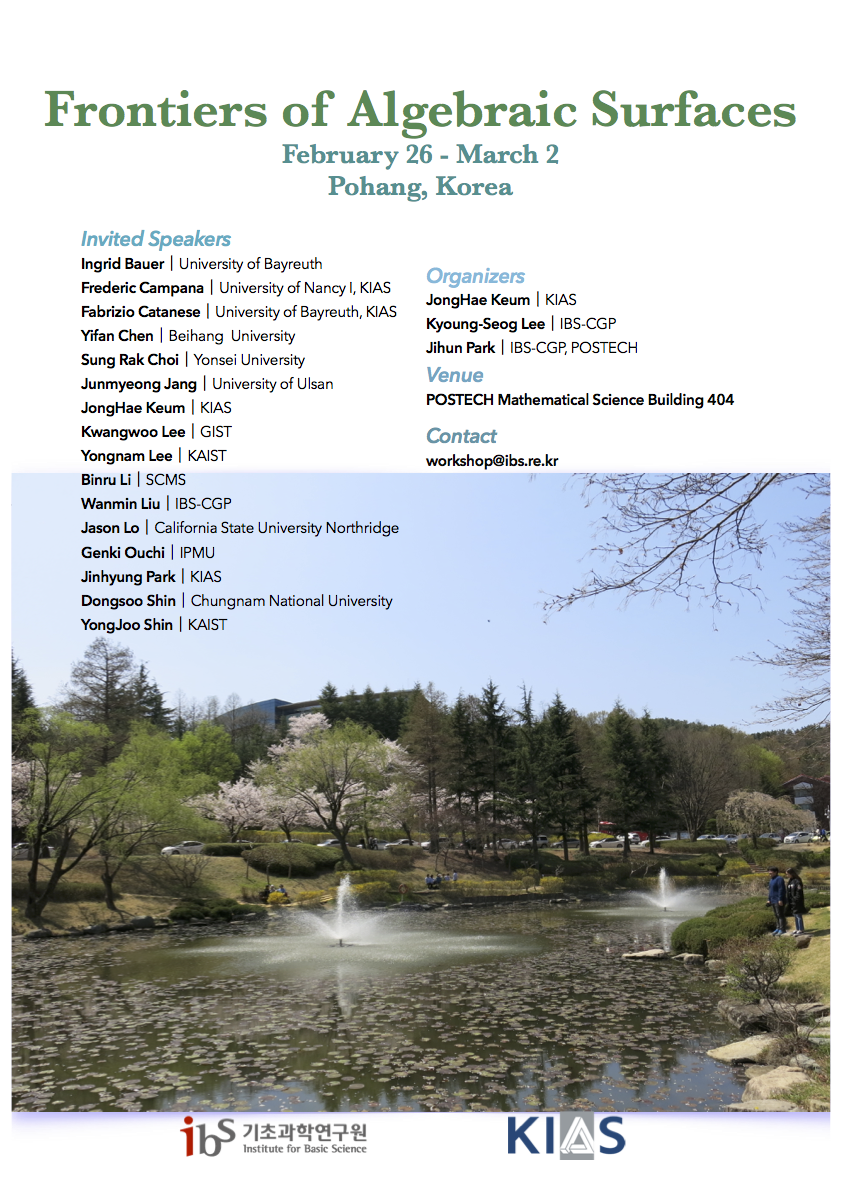 Schedule
February 26 (Mon)
February 27 (Tue)
February 28 (Wed)
March 1 (Thu)
March 2 (Fri)
09:40 – 10:40
YongJoo Shin
Jason Lo
Yongnam Lee
Jinhyung Park
10:40 – 11:00
Break
11:00 – 12:00
Registration
Yifan Chen
Wanmin Liu
Genki Ouchi
Frederic Campana
12:00 – 14:00
Lunch
Excursion
Lunch
14:00 – 15:00
Fabrizio Catanese
Kwangwoo Lee
Binru Li
15:00 – 15:30
Tea Time
Tea Time
15:30 – 16:30
Ingrid Bauer
JongHae Keum
Dongsoo Shin
16:30 – 16:45
Break
Break
16:45 – 17:45
Sung Rak Choi
Junmyeong Jang
Venue
POSTECH Mathematical Science Building 404
Registration
Online registration is available here until February 17, 2018.
How to get to POSTECH
Visit here for information about how to get to Pohang.
For the location of the conference site, click here for POSTECH Campus Map.
Visa
Please visit here and if you need to apply for the visa to attend the conference, please contact workshop@ibs.re.kr. We would request a copy of your passport and up-to-date CV for review.
Contact
workshop@ibs.re.kr