Women in Geometry and Topology
June 24–28, 2019
POSTECH Math. Bldg. #404
Invited speakers
Choi, Seonmi (Kyungpook National University)
Han, Jiyoung (Seoul National University)
Jeong, Yewon (Morningside Center of Mathematics)
Keum, Jong Hae (KIAS)
Kim, Byeorhi (Kyungpook National University)
Kim, Jieon (Pusan National University)
Kim, Seonja (Chungwoon University)
Kim, Sung Yeon (KIAS)
Kim, Youngju (Konkuk University)
Koh, Kyewon (KIAS)
Lee, Donghi (Pusan National University)
Lee, Eunjeong (Ewha Womans University)
Lee, Eunjoo (Soongsil University)
Lee, Hwa Jeong (Dongguk University - Gyeongju)
Lee, Ju A (Seoul National University)
Lee, Seul Bee (Seoul National University)
Lim, Seonhee (Seoul National University)
Moon, Jiyeon (Ajou University)
Park, Seonjeong (Ajou University)
Seo, Aeryeong (Kyungpook National University)
Yang, Jihyeon Jessie (Marian University-Indianapolis)
Yang, Yoonjeong (Chungnam National University)
Venue
Organizers
Lee, Eunjeong (IBS-CGP)
Oh, Yong-Geun (IBS-CGP & POSTECH)
Park, Jihun (IBS-CGP & POSTECH)
Song, Minkyoung (IBS-CGP)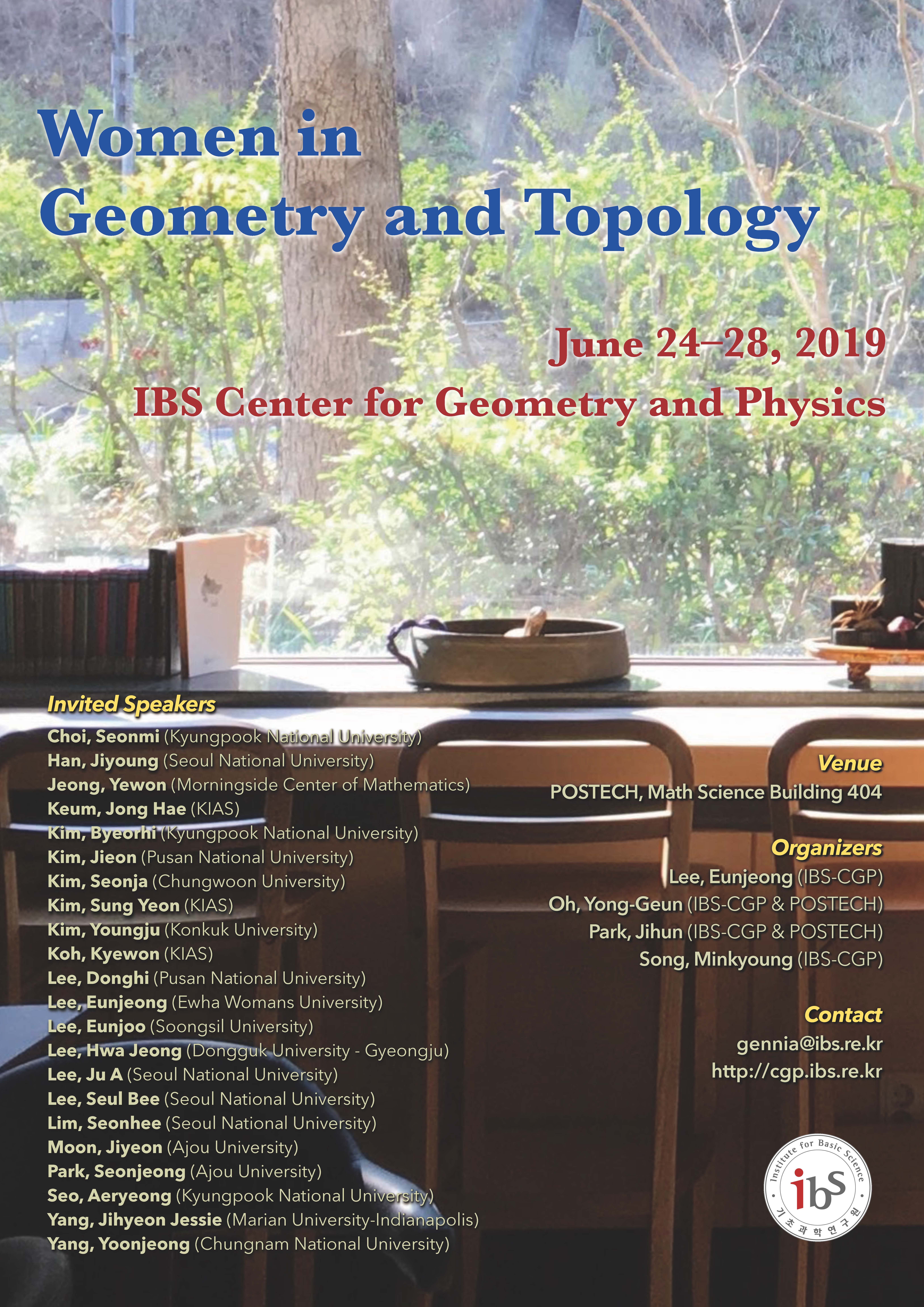 Lectures Schedule
Time
June 24 (Mon)
June 25 (Tue)
June 26 (Wed)
June 27 (Thu)
June 28 (Fri)
Time
09:30~10:00
Registration
Lim, Seonhee
Kim, Youngju
09:30~10:15
10:00~10:15
Greeting
10:15~11:00
Koh, Kyewon
Kim, Seonja
Kim, Sung Yeon
Lee, Seul Bee
Lee, Eunjeong
10:30~11:00
11:15~12:00
Lee, Donghi
Yang, Jihyeon Jessie
Han, Jiyoung
Seo, Aeryeong
Keum, Jong Hae
11:15~12:00
12:00~14:00
Lunch
Lunch
Lunch
12:00~13:45
Yang, Yoonjeong
13:45~14:15
14:00~14:45
Lee, Hwa Jeong
Free Discussion or Excursion
Jeong, Yewon
Evacuation practice
14:30~15:00
15:00~15:30
Kim, Byeorhi
Lee, Eunjoo
Moon, Jiyeon
15:00~15:45
15:30~16:00
Tea time
Tea time
16:00~16:45
Kim, Jieon
Women's stories I
Park, Seonjeong
16:00~16:45
17:00~17:45
Choi, Seonmi
Lee, Ju A
17:00~17:45
18:00~
Women's stories II
(with dinner)
Banquet
18:00~
For the title and abstract, please click here.
Last update: June 19, 2019
Accommodation
We regret to say that we cannot support your travel and local expenses unless the conference promised to pay. For booking accommodation in Pohang, please contact the hotel directly referring the list below. To visit the website of the hotel, please click the name of the hotel.
If you want to stay at the CGP Guest House or POSCO International center, then please fill out the registration form by May 20, 2019. We will help you to reserve it. There is a limited number of rooms reserved, so this will be first come, first served basis.
CGP Guest House
POSCO Int'l Center
Hotel Yeongildae
Apple Tree Hotel
Philos Hotel
Benikea Hotel Pohang
Eco Hotel
Double Room
free
88,000 KRW
120,000 KRW
50,000 KRW
(1 Person)
70,000 KRW (weekdays)80,000 KRW (weekends)
80,000 KRW
90,000 KRW
(1 Person)
100,000 KRW
(2 Persons)
Twin Room
88,000 KRW
142,000 KRW (1 double & 1 single bed)
55,000 KRW
(2 Persons)
70,000 KRW (weekdays)80,000 KRW (weekends)
80,000 KRW
100,000 KRW
120,000 KRW (Deluxe)
Breakfast
(1 person)
none
13,200 KRW
8,000 KRW
free
10,000 KRW
free
free
Distance from Venue
10 min. by car
10 min. by walk
15 min. by car
15 min. by car
15 min. by car
20 min. by car
20 min. by car
Contact
none
+82-54-279-8500
+82-54-280-8900
+82-54-241-1234
+82-54-250-2000
+82-54-282-2700
+82-54-282-8787
* The above rate is as of April, 2019 (VAT included)
** The rate may vary
Contact
gennia@ibs.re.kr