Topology in Australia and South Korea
April 23–27, 2018
POSTECH Math. Bldg. #404, Pohang, South Korea
Organizers
Gabriel C. Drummond-Cole (IBS Center for Geometry and Physics)
Philip Hackney (Macquarie University)
Marcy Robertson (The University of Melbourne)
Mini-course Lecturers
Kathryn Hess (EPFL)
Dominic Verity (Macquarie University)
Confirmed Speakers
Youngjin Bae (RIMS)
Benjamin Burton (University of Queensland)
Jae Choon Cha (POSTECH)
Chang-Yeon Chough (IBS Center for Geometry and Physics)
Pierre-Louis Curien (CNRS)
Xing Gu (University of Melbourne)
Hee Jung Kim (Seoul National University)
Sang-hyun Kim (Seoul National University)
Joan E. Licata (Australian National University)
Aaron Mazel-Gee (University of Southern California)
Byungdo Park (KIAS)
Jessica S. Purcell (Monash University)
David Roberts (University of Adelaide)
Dominik Wrazidlo (Kyushu University)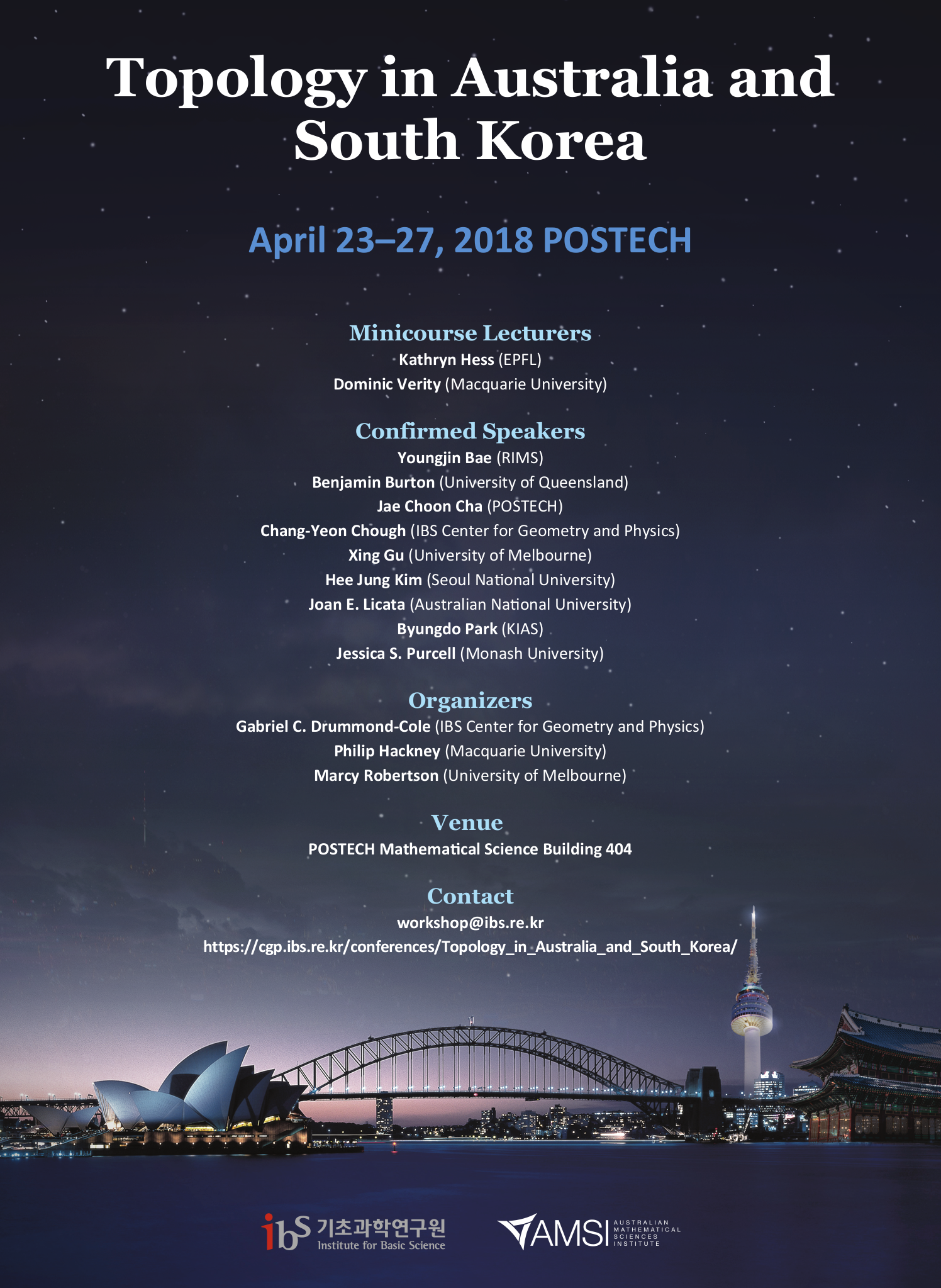 Registration
Online registration is available here until March 15, 2018.
* This event is partially sponsored by the Australian Mathematical Sciences Institute (AMSI). AMSI allocates a travel allowance annually to each of its member universities (for list of members, see www.amsi.org.au/members).
Students or early career researchers from AMSI member universities without access to a suitable research grant or other source of funding may apply (with approval of the Head of Mathematical Sciences) for subsidy of travel and accommodation out of the departmental travel allowance.
See http://research.amsi.org.au/travel-funding/ for more details.
** Contributed talks should be submitted by February 10.
*** Please refer to the link below to know how to get Pohang.
https://cgp.ibs.re.kr/forvisitors/gettingtopohang
Schedule
April 23 (Mon)
April 24 (Tue)
April 25 (Wed)
April 26 (Thu)
April 27 (Fri)
09:00 – 10:00
Byungdo Park
Xing Gu
09:00 – 10:20
10:00 – 11:00
Kathryn Hess I
Joan E. Licata
Jessica S. Purcell
Kathryn Hess II
Kathryn Hess III
10:20 – 11:20
11:20 – 12:20
Dominik Wrazidlo
Chang-Yeon Chough
Sang-hyun Kim
Youngjin Bae
Jae Choon Cha
11:40 – 12:40
12:20 – 15:00
Lunch
Excursion
Lunch
Lunch
Lunch
12:40 – 15:00
15:00 – 16:00
David Roberts
Dominic Verity I
Dominic Verity II
Dominic Verity III
15:00 – 16:00
16:20 – 17:20
Hee Jung Kim
Aaron Mazel-Gee
Pierre-Louis Curien
Benjamin Burton
16:20 – 17:20
Contact
workshop@ibs.re.kr